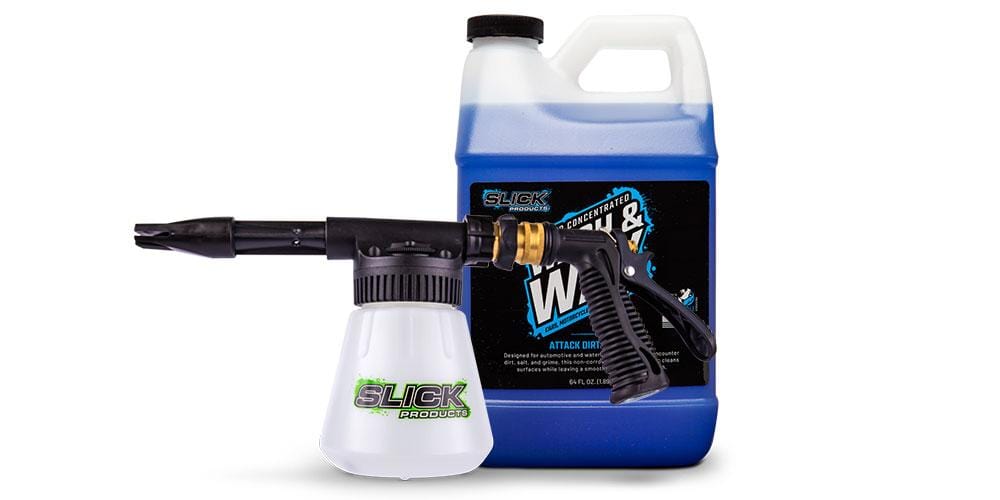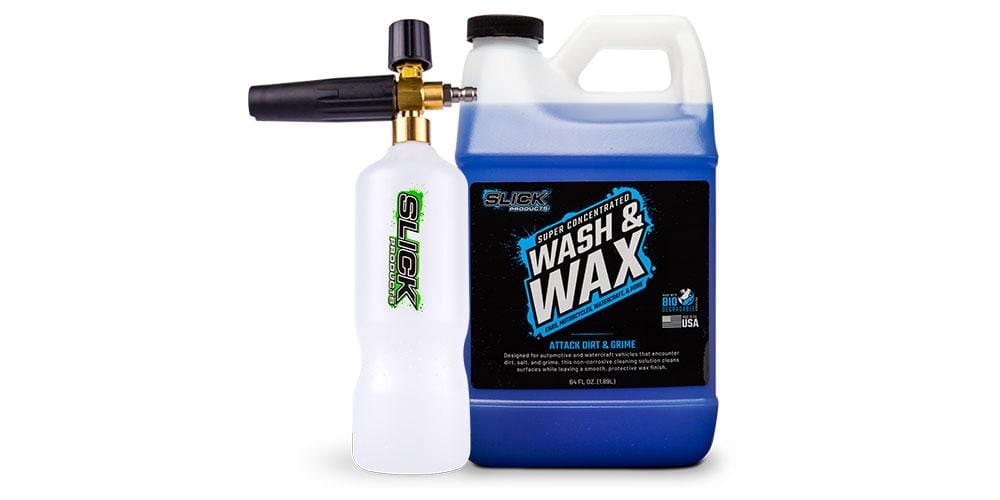 Wash & Wax + Foam Cannon/Gun Bundle
In stock

The Wash & Wax + Foam Cannon/Gun Bundle is the perfect pair, designed with the core basics you need to keep your Cars, Trucks, Boats, Jet Skis, and all other vehicles looking their best.
Slick Products Garden Hose Foam Gun quickly mixes our concentrated Wash & Wax and transforms it into a foamy wash to coat surfaces. This gun easily attaches to any standard garden hose fitting and contains adjustable dials for increasing or decreasing ratios and adjusting angle of spray. Made with a durable plastic tank and high quality brass fittings this foam cannon is designed to last and helps speed up your cleaning process.
Adjustable Dial For More Or Less Foam

Quick Release For Fast Rinsing

Designed With Durable Plastic and Brass Fittings

Tank Capacity 32 fl oz.

Transform Concentrated Soap Into A Foamy Wash

Speeds Up The Cleaning Process
FASTER, SAFER, AND EASIER CLEANING EXPERIENCE
FOR ALL YOUR DIRTY TOYS
Slick Products high-quality cleaners and washes are blended and bottled in the USA and provide a faster, safer, and easier cleaning experience For All your Dirty Toys.
The soap and cleaning products work very well and the Slick shine spray is amazing at keeping the mud from building up on your bike. This stuff is worth every penny.
Slick products are easy to use and leave the equipment virtually new. Slick easily takes off dirt, grime, dust, dried-on old mud, salt, smudges, and gook of all sorts.
Slick Products Off-Road Wash has been our bike wash of choice for some time due to it's ease of use and effectiveness against dirt, mud and muck. Good stuff.
If you are going to get muddy then you are going to need a product to clean up after. The Off-Road Kit contains everything you need to keep your unit looking extra shiny.
Slick was applied and all of the road grime and bugs were completely gone. The bike looked showroom clean after a just a quick rubdown to dry it.
There's nothing fun about cleaning the brown muck off your bike afterwards, but Slick Off-Road Wash eases the pain. Also works well on boots, helmets, and trucks.