FREE Shipping included with special offer.


The Secret To A FASTER, SAFER, AND EASIER Wash

Quickly apply our concentrated Off-Road Wash or Wash & Wax to large areas using our foam guns. Allow the solution to soak for a minute or two, breaking down dirt and mud without stripping lubrication or corroding surfaces. Agitate, then rinse.

Apply our powerful Cleaner & Degreaser to smaller areas with nasty grime, grease, or tough film without etching or corroding surfaces. Allow the solution to soak for a minute, scrub thoroughly using a soft bristle brush, then rinse. Dry the vehicle after Step 2.

For a fresh new look, apply our Shine & Protectant to plastic, rubber, and vinyl to shine and restore faded surfaces. For a faster clean-up, apply to areas where mud build-up occurs. Do not use on tire treads, seat, or other areas that should not become slippery.
ADVANTAGES OF USING SLICK
Slick Products was designed for consumers who encounter heavy dirt and mud but want to maintain the life, look, and value of their vehicle.  Our solution is formulated to work on the toughest job but be gentle on bearing grease, safe on expensive parts, and super concentrated so a single bottle will last for a lot of washes.


Easy-to-use products make your next wash fast and fun.
Washing your vehicle with dish soap and bucket is thing of the past. It is not only slow but it also wastes a lot of product which means a waste of money. Slick Products specially formulated concentrate soap are designed to quickly and effectively remove grime. Pair the soap with any of our foam guns and you will be armed with the fastest and easiest tools to wash a vehicle. 

Non-corrosive wash products won't dull or fade parts.
Using generic, cheap cleaners with high pH levels can be extremely harmful to your expensive vehicle. This high-intensity cleaning may be great for shop floors or industrial uses, but it's the last thing you want to spray on your precious vehicle. Choosing the RIGHT cleaners that are safe for paint, plastic, metal surfaces and bearings is very important. Slick Products are non-corrosive and designed to help you to maintain the life, look, and value of your vehicle for years to come.

Works great! Removes heavy dirt and mud leaving a like-new shine.
Getting a showroom shine doesn't have to take hours of detailing. Slick Products has developed the perfect combination of products and teamed them with an easy application that delivers a superior cleaning experience. Simply follow our guaranteed 3-step process! Remove heavy dirt and mud without stripping lubrication, target grime, and finish with a clear finishing spray to protect your vehicle and leave it looking like new and ready for your next adventure. 






"Received my off road wash and garden hose foam gun this week and washed the Teryx4 today and that stuff is awesome, nothing on the market I have tried comes close to this!"


"I have tried nearly ever cleaning product to clean my RZRs with and Slick Products dominates them all no comparison."


"Not only is this the best product I have come across for cleaning my ATV, but the customer service was top notch! I will continue to use these products only for the best possible results!"


"My boyfriend absolutely loves his products and will definitely re-order. Happy man=Happy me!"


"Slick is a brand that my team and I can trust and depend on. Removes the toughest grime and at cost of a dime. Thank you for all your support and a shine that last a lifetime."


"Was a bit apprehensive at first, but I decided to try it. It really works as advertised. After you conduct a few washes and get comfortable with the set up, it speeds up the process tremendously. I'm overall impressed."


TRY OUR PRODUCTS RISK FREE
We are so confident you will love your purchase that we offer our Slick Promise. If you're not entirely happy, or if anything is missing or damaged with your order we will refund your money or exchange the goods.




QUESTIONS? we have answers.
How much does it cost to ship?
FREE!!! That's right, we offer free shipping on this offer and also any order that is $75 or more if your address is within the United States lower 48 states.
Can I return this if I don't like?
Yes! We are so confident you will enjoy using these products and have a great experience that we offer a money-back guarantee on our 3-Step process.
How many washes do you get out of one 32 oz. bottle of the Off-Road Wash?

The Off-Road Wash is super concentrated and will make about 8 gallons. The amount of washes will vary depending on the size of your vehicle and how dirty it is. On average for medium sized vehicles like an ATV, customers will use about 2 ounces per wash and get about 16 washes per bottle.
How much product do I mix into the foam cannon / gun / sprayer?

If you are using either foam cannon for pressure washers or foam gun for garden hose, you will fill up the containers with water first then add about 2-4 ounces and adjust settings for desired foam. For thick white foam add more soap and adjust your dial to highest setting. If you are using hand pump foam sprayer you will fill the tank up half way and only add 1 ounce.
How do I get thick white foam?

Results will vary depending on the strength of your pressure washer and what settings you select on the gun. We recommend using the instructions below as a good place to start and add more soap and adjust your dial to highest setting until you achieve the desired result.
Foam Cannon or Gun: 2-4 ounces
Hand Pump Foamer: 1 ounce
Are these products safe for metal parts?

All our wash products are pH balanced and when used as directed will not etch or discolor metal surfaces or anodized aluminum parts.
Can I use these products on my car?

These products can all be used on your car as well as your off-road vehicle however for best results we recommend using our Wash & Wax on glossy painted surfaces instead of the Off-Road Wash as your overall wash. See our complete link of wash kits on by clicking here. 
Foam gun quickly mixes the concentrated Off-Road Wash and transforms it into a foamy wash to coat surfaces. Available in options to connect to pressure washer, garden hose, or hand pump.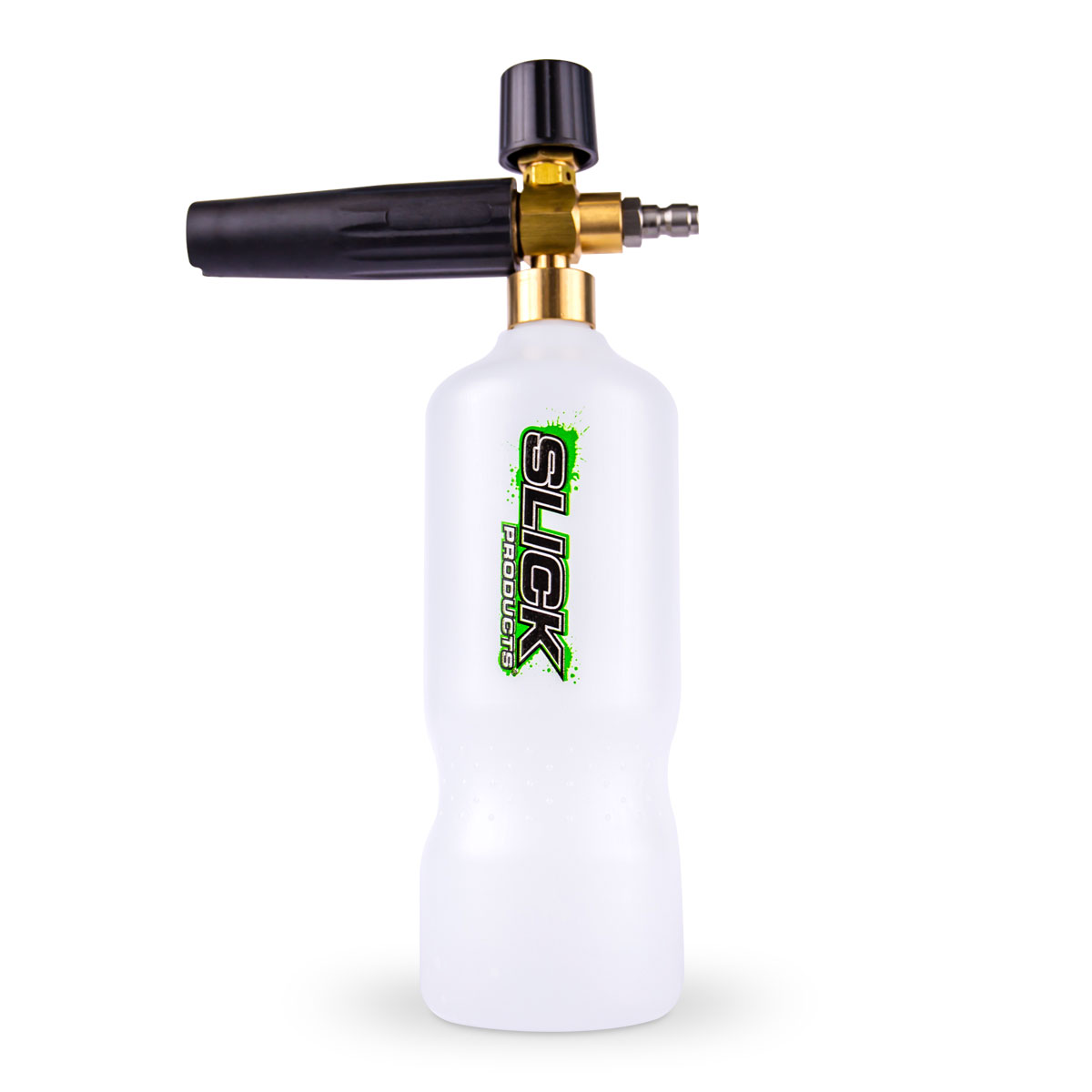 PRESSURE WASHER FOAM CANNON
Makes thick white foam but requires pressure washer with 1/4" quick connect adapter fitting on the wand.  Has adjustable dials for increasing or decreasing ratios and adjusting angle of spray.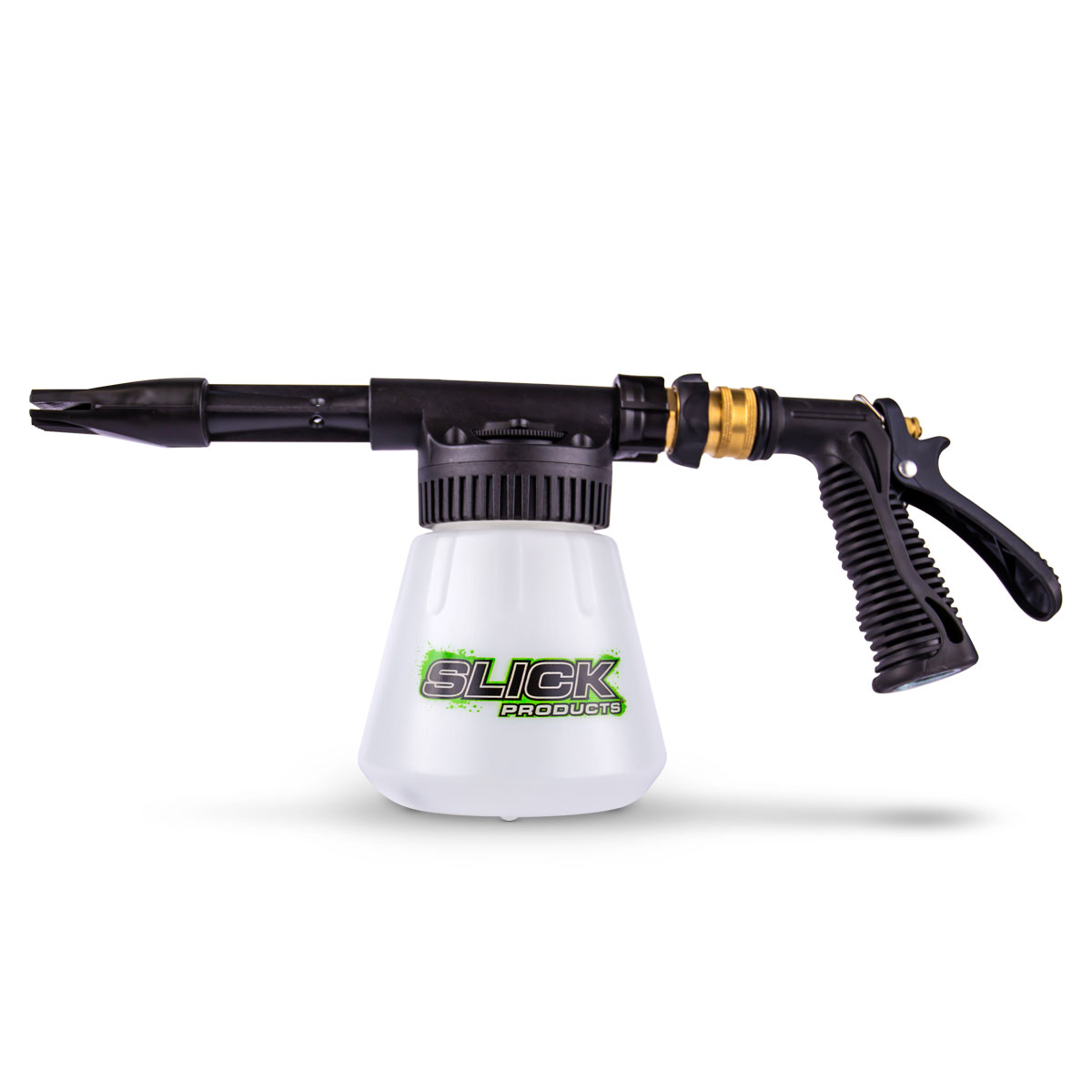 This gun easily attaches to any standard garden hose and instantly creates sudsy foam. Contains adjustable dials for increasing or decreasing ratios and adjusting angle of spray. Made with a durable plastic tank and high quality brass fittings.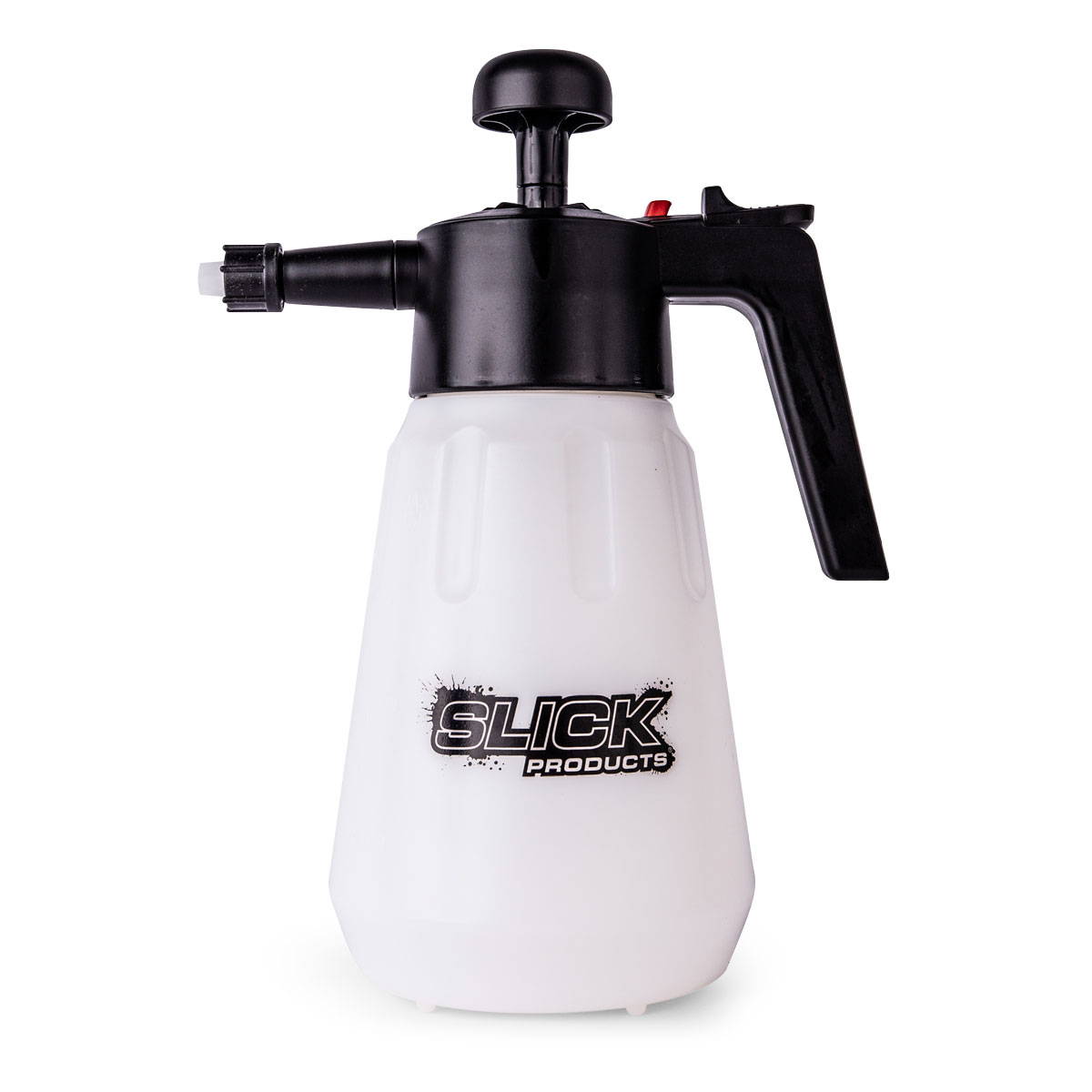 Makes thick white foam and does not require attachment to a hose or pressure washer. It can be quickly pumped up by hand for instant use. Made with durable plastic this foam sprayer is designed to last .